Cafes
(Kahveler)
Cafes have been very popular in Turkey for almost 200 years. (two centuries before Starbucks) The cafe (Kahve in turkish) is a traditional place where people (mostly students) spend time and discuss politics & soccer.
Modern cafes offer a variety of beverages as well as traditional soft drinks. You can play games like backgammon, checkers and chess (Note that backgammon is the most popular board game in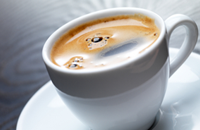 Turkey. It is an accepted way of meeting others in a friendly environment.)
In short, it is very hard to categorize the varieties of cafes. However getting into a cafe - preferably an old one - and having a cup of Turkish coffee would be a great experience if you are looking forward to understanding how people network in Turkey. Say "hi" - or merhaba (en: Hi) - when you go in, you will see a warm smile and a nice welcome.
Cafes in Antalya
Cafe Cey

Address : Kışla Mah. Anafartalar Cad. Peker Apt. N.28-14 Merkez / Antalya
Phone : 90 (242) 241 91 89
Cafe Duden

Address : Varsak Kasabası Fatih Cad. Duden Şelalesi MERKEZ / Antalya
Phone : 90 (242) 417 23 05
Scorpion Bilard Cafe

Address : 100.Yıl Bulvarı Hocaoğlu Ap. No:3/1 MERKEZ / Antalya
Phone : 90 (242) 247 50 11
Ret Rose Cafe Bar

Address : Lara Cad. Antalya Otel karşısı No:1 MERKEZ / Antalya
Phone : 90 (242) 248 14 35
Mozart Cafe Bar

Address : Şirinyalı Mah. Eski Lara Cad. No:96/3 MERKEZ / Antalya
Phone : 90 (242) 323 01 76
Flora Cafe Bar

Address : Kışla Mah. Cumhuriyet Cad. 59. Sokak No:6\C MERKEZ / Antalya
Phone : 90 (242) 242 77 28