Restaurants
Turkish cuisine was inherited by Ottoman heritage which could be described as a fusion and refinement of Turkic, Arabic, Greek, Armenian and Persian cuisines. Ottomans fused various culinary traditions of their realm with influences from Middle Eastern cuisines, along with traditional Turkic elements from Central Asia such as yogurt.
Taken as a whole, Turkish cuisine is not homogenous. Aside from common Turkish specialities which can be found throughout the country, there are also region-specific specialities. The Black Sea region's cuisine (northern Turkey) is based on corn and anchovies. The southeast—Urfa, Gaziantep and Adana—is famous for its kebabs, mezes and dough-based desserts such as baklava, kadayıf and künefe. In western parts of Turkey, where olive trees are grown abundantly, olive oil is the major type of oil used for cooking.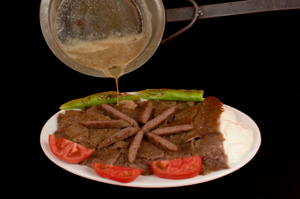 The cuisines of the Aegean, Marmara and Mediterranean regions display basic characteristics of Mediterranean cuisine as they are rich in vegetables, herbs and fish. Central Anatolia is famous for its pastry specialities such as keşkek (kashkak), mantı (especially of Kayseri) and gözleme.
The name of specialities sometimes includes the name of a city or a region (either in Turkey or outside). This suggests that a dish is a speciality of that area, or may refer to the specific technique or ingredients used in that area. For example, the difference between Urfa kebab and Adana kebab is the use of garlic instead of onion and the larger amount of hot pepper that kebab contains.
Restaurants in Antalya
Tekeli Mansions

Address:
Dizdar Hasan Sok No:1 Kaleiçi Antalya
Phone:
90 (242) 242 67 14
Tike Antalya

Address:
Lara Kent Plajı Lara Beach - Lara Antalya
Phone:
90 (242) 349 68 62
Urcan Balık Lokantası

Address:
Gençlik Mah. Tevik Işık Cad. No : 2 Antalya
Phone:
90 (242) 244 57 68
Zen Cafe & Bistro

Address:
Metin Kasapoğlu Caddesi Ayhan Kadam İş Merkezi A Blok No: 1 Antalya
Phone:
90 (242) 312 07 73
İnegöl Meatbal Shop

Address:
Milli Egemenlik Caddesi No:8/B Ertuğrul Bey Apt. Antalya
Phone:
90 (242) 242 37 14
Yedi Mehmet

Address:
Hasan Subaşı Kültür Parkı ANTALYA
Phone:
90 (242) 238 52 00
Yat Restaurant

Address:
Kaleiçi Yat Limanı ANTALYA
Phone:
90 (242) 242 48 55
Zarif Restorant

Address:
Beachpark No:51 Antalya
Phone:
90 (242) 238 00 20
Villa Perla

Address: Hesapçı Sokak No:26 Kaleiçi ANTALYA
Phone: 90 (242) 248 97 93
Virgos

Address:
Şirinyalı Mah. Özgürlük Bulvarı Şirin Apt. 57/B Antalya
Phone:
90 (242) 316 12 66